The Parks And Recreation Age Gap That Will Blow Your Mind
After seven seasons on NBC, the beloved sitcom "Parks and Recreation" finally said goodbye to audiences in 2015. However, as evidenced by the 2020 reunion special and the show's overall enduring popularity, it remains a small screen favorite years after wrapping up its story — something brought on by a variety of factors. For some, it's the comedic approach to work in small government, while for others, the key is the host of personal stories it fits within the wider narrative. Although, most would agree that its cast of characters and the actors behind them were the secret ingredient.
Throughout its run, "Parks and Recreation" fans would meet a wide swath of characters who ranged from regulars to cameos. Regardless of their time in the spotlight, though, some of these names would reach icon status among those who love the show. From Tom Haverford (Aziz Asari) to Councilman Jeremy Jamm (Jon Glaser), the program produced numerous unforgettable characters that went a long way in raising their actors' stock in Hollywood. At the same time, this admiration from viewers led to some interesting observations about the roles and the actors from those online.
For instance, "Parks and Recreation" fans discovered this mind-blowing detail about the age gap between two actors that you likely never noticed.
Jim O'Heir and Rob Lowe are only two years apart in age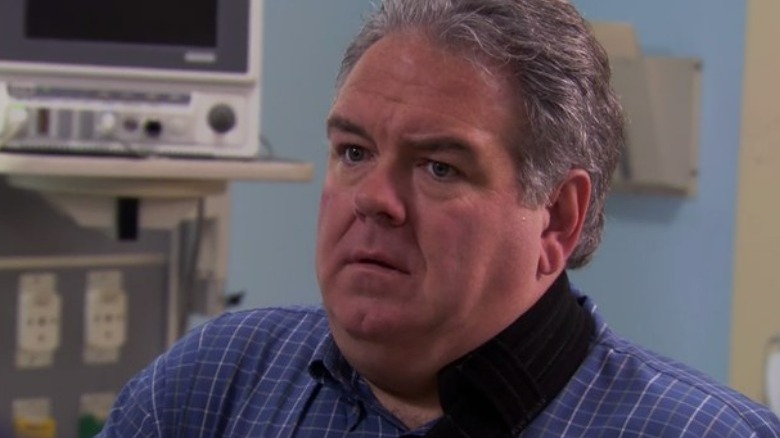 NBC
Two staples of the Pawnee, Indiana Parks and Recreation Department are the bumbling, hot take-inspiring Jerry Gergich (Jim O'Heir) and the optimistic health nut Chris Traeger (Rob Lowe). In terms of their personalities and physical appearances, they couldn't be more different, and that goes for the actors as well. However, as noted by Redditor u/Josro0770, O'Heir and Lowe are only two years apart in age despite their looks leading one to believe that the gap could be much larger. As of this writing, O'Heir is 60 and Lowe is 58, yet they don't seem in such close age proximity at first glance.
While Chris Traeger definitely has his rough moments, Jerry notoriously gets treated pretty badly by his fellow Parks and Recreation Department employees even though he's one of the elders of the office, too. It's rare for him not to be at the wrong end of one of his co-worker's quips or for him to embarrass himself and find no sympathy for his blunder. Nevertheless, as Jim O'Heir told Esquire, series co-creator Mike Schur explained to him that Jerry's home life more than makes up for his work life. "His theory on this is you can keep this up as long as this guy has some really amazing things in his life. And he does. Jerry has the best life of anyone in that office," O'Heir explained.
Jim O'Heir and Rob Lowe serve much different purposes on "Parks and Recreation" as Jerry and Chris, respectively. Their vastly different appearances, personalities, and treatment from their co-workers makes it understandably difficult to notice that they're not so far away in terms of age after all.