Genshin Impact: How To Unlock The Lost Valley Domain
miHoYo
"Genshin Impact" has been one of the biggest PC, PlayStation, and mobile titles since it released in 2020. In fact, the game raked in almost $400 million in two months despite its free-to-play status. The offering went from a "Zelda" clone to finger lickin' good, and it continues to receive patches featuring fresh characters, map expansions, and domains, such as the Lost Valley domain that debuted in the 2.6 update.
The Lost Valley domain can prove incredibly lucrative for players because of the two artifact sets available: Echoes of an Offering and Vermillion Hereafter. However, before you can start grinding for these artifacts, you'll need to unlock the Lost Valley domain. Unlike some others in "Genshin Impact," this domain requires a bit of work to access. If you're ready to try out the new area and reap the rewards, here's what you should know.
Liyue's Lost Valley domain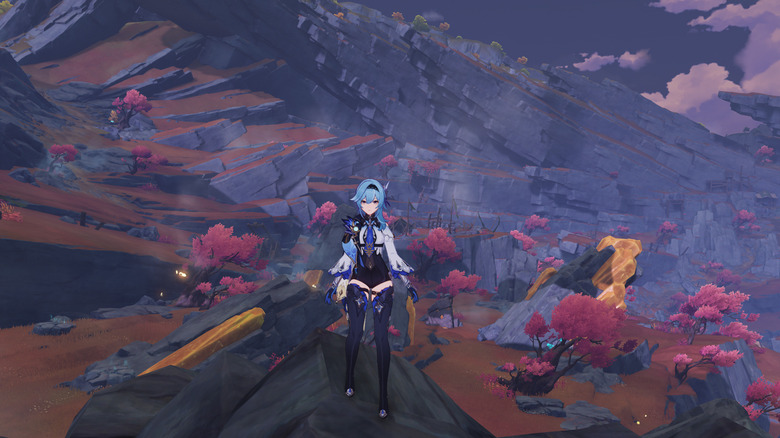 miHoYo
The first step to unlocking the Lost Valley domain is going to the North side of The Chasm in Liyue. To do this, you can easily travel to the Statue of Seven located in The Chasm and walk towards Fuao Vale.
Using a Geo character, you'll need to create a few Geo spots on the path leading up to the Lost Valley domain. Because the Traveler gets Geo once you get into Liyue, everyone should have a character that can do this. There's a tombstone that can be read at each location so you know you're in the right spot. Once you've done this, a path into the mountain will open up, and you'll find the domain inside of it.
The trickiest part of this process is making sure you're in the correct place. When you're looking at the overworld map, ensure you're right beside the left cliff that runs from Fuao Valley and The Surface. You can also look for an Ancient Stone Tablet right where the Geo block is in the cliff.