How Long Does It Take To Beat As Dusk Falls?
Interior Night
Indie crime drama "As Dusk Falls" appeared in headlines across the gaming world after its appearance in the Games category of the Tribeca Film Festival. It focuses on the complex history between two families over thirty years, starting with a robbery-gone-wrong in small town Arizona. In an even more interesting twist, it's apparently multiplayer. Players can work together to choose what happens in the plot. However, with as big a backlog as gamers typically have, it's important to know how much time we can expect to spend on it. 
Luckily, those who reviewed it generally agree on an 6 hours for one playthrough. The Loadout reported that the game takes about 6-7 hours to complete. Writer Joe Apsey noted it could take up to three times that estimate if you plan on completing all the endings and exploring everything the game has to offer. That's between 18-21 hours total, if you multiply the estimates. 
Dexerto and Gfinity landed in a similar range with their playthroughs. Dexerto reviewer Sam Smith reported 5-6 hours per each playthrough. Tom Hopkins, who reviewed the game for Gfinity, also clocked in at about 6 hours. According to him, developers also apparently said that's how long the game should take to beat, too. It also depends on how quickly you speed through the choices, even if it doesn't vary much.
Here's what else could affect the time it takes to finish "As Dusk Falls."
Is there wiggle room for completing As Dusk Falls?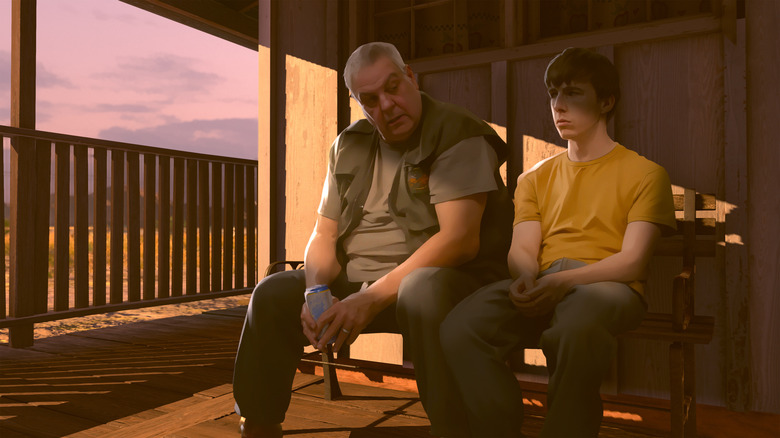 Interior Night
"As Dusk Falls" is an "interactive drama," as reviewers report, so there aren't any bosses or puzzles that can hold up a player for longer than expected. There are six chapters that the player goes through during the game, where you basically just hitch a ride on a visual novel-like experience with options and cutscenes to proceed. This isn't an open-world game where you can lose yourself for hours at a time, after all. The Loadout and Dexerto both estimated about 18-21 hours total for the three endings you can achieve, which is about 6 hours per playthrough or more.
Ex-Quantic Dream dev Caroline Marchal, who leads Interior Night, told PCGamesN that it planned to make games aimed at TV audiences like "people who watch Netflix or HBO."
"We're hoping to bring that quality to gaming, with complex characters and accessible yet deep gameplay," said Marchal. We'll have to see if "As Dusk Falls" delivers on that vision.
"As Dusk Falls" will release for PC, Xbox One, and Xbox Series X|S on July 19, 2022.